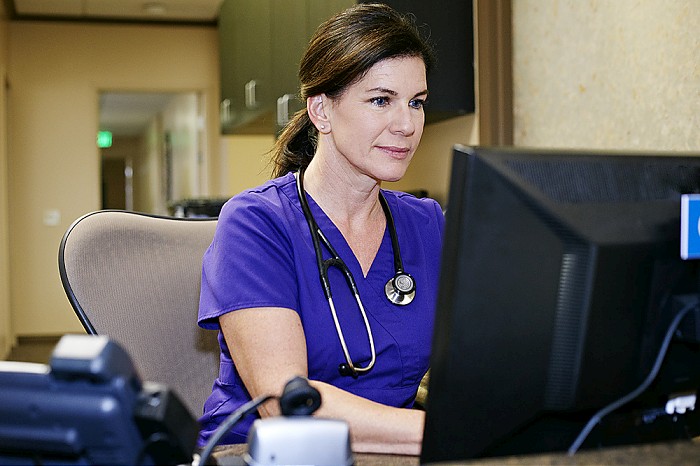 The Basics of Medical Billing & Coding: Functions, Salary, Job Outlook & Certification
Posted on January 17, 2021 | 10 min read
A growing number of people are taking medical billing online courses as a first step to a coding and billing career. Just what is medical billing and coding and why is there a growing interest in the field?
In this article, we will discuss the basics - from its definition to certification to job outlook and responsibilities.


Medical Billing and Coding in a Nutshell
Billing and coding go hand in hand in today's healthcare reimbursement system, which is used to facilitate payment for services of healthcare workers, such as doctors. However, they are not one and the same.
Coding means translating medical text, such as a prescription, diagnosis, or procedure to a numeric or alphanumeric code. One primary example of a coding system is called the ICD or International Classification of Diseases (ICD), which is maintained by the World Health organization (WHO). The code serves as a universal system for ensuring that patients receive appropriate care and medical workers receive payment for services.
It's important to note that every disease and treatment has a corresponding code and this is used in patient charts, hospital billing and other medical documents. Thus learning about how to interpret and accurately code is a crucial part of any medical billing and coding program.
Once the coder is done, the ball is passed onto the biller. Medical billing simply means creating a bill - or a claim - from the data that the coder interpreted and passing it onto the insurance company for disbursement. Once the insurance company has evaluated the claim, it is returned to the biller who will make a proper assessment of how much is owed by a patient, after insurance.
Since the responsibilities are correlational, most medical billing certification programs also consist of coding curriculum. As well, in most work settings, the medical coder also serves as the biller.
Where Medical Billers and Coders Work
Once you've completed a medical billing and coding program and have been certified, it's time to get working. Work settings for billers and coders are quite diverse. More than 30% are found in hospitals and clinics, and about 20% in doctor's offices. About 5% work in long-term care facilities. The rest work in insurance companies, government offices, law firms, and other relevant providers. There's also a growing number of remote medical billers and coders, especially after the pandemic began.
Job Outlook
Medical billing and coding is one of the fastest-growing healthcare careers today. There is a growing need for professionals who are well-learned in coding vital data for healthcare services and insurance claims, especially with a significant number of Americans approaching and coming into retirement.
In fact, according to the Bureau of Labor and Statistics, According to the Bureau of Labor and Statistics, the billing and coding industry is expected to grow at 8% from 2019 to 2029, which is faster than the average for most occupations.
How Long Does it Take to Become a Medical Biller and Coder
Gone are the days when one would need a 2 or 4-year degree to get certified as a biller and coder.. Nowadays, it's possible to enroll in medical billing and coding programs online, which are offered by accredited colleges and universities. Such programs allow you to complete an online coding and billing course in just four months. Upon completion, you can work on getting certified for any of the following:
American Academy of Professional Coders (AAPC) Certified Professional Coder Exam (CPC or CPC-H Apprentice)

American Health Information Association (AHIMA) Certified Coding Associate (CCA) exam

National Healthcareer Association (NHA) Billing and Coding Specialist Certification (CBCS)
On-the-job training is not a prerequisite for employment in the field, which means that you can get employed within a year of taking a medical billing online course.
Medical Billing and Coding Salary
Apart from the plentiful employment opportunities available in the next 10 years, another reason why many aim for medical billing certification is that billing and coding is a low-stress job with minimal investment and considerable monetary returns. In 2019, billers and coders earned $42,630 in annual median salary (about $20.50 per hour). Experienced coders in the top 10% earned more - over $62,000 per year. Depending on the state you work in, this figure could also increase.
Is Medical Billing and Coding for You?
As an important asset to the US healthcare system, medical billing and coding offers lucrative opportunities for aspiring healthcare workers. While not directly responsible for hands-on patient care, billers and coders also play an important role in ensuring that medical facilities, physicians, and other healthcare workers receive fair and proper remuneration. This makes them an integral component of any facility processing claims.
If you would like to be part of such an emerging landscape, if you like organizing data, and prefer working in front of the computer in a office environment, then you might want to get started on a medical billing online course.
Several accredited colleges and universities across the US, including Auburn University, Clemson University, Fresno Pacific University, and Louisiana State University - Shreveport, and Montana State University, Texas A&M University - Texarkana, University of Wisconsin–La Crosse, and Western Kentucky University, offer medical billing certification online. You can check out this overview of the online MyCAA medical billing and coding course offered by these universities on US Career Training Programs. Check our MyCAA Career List.
Related Posts
Most Popular
Editor's Pick